1-
Gravity
-- A triumph!
2-
American Hustle
-- David O Russell keeps working his magic
3-
Hunger Games: Catching Fire
-- The best of the Hunger Games series to date
4-
Blue Jasmine
-- Woody Allen's "Streetcar", Cate Blanchett owns it
5-
Frozen
-- Disney's non-Pixar modern classic
6-
Ironman 3
-- Another best of the series
7-
Hobbit: The Desolation of Smaug
-- Second in the film trilogy, and so much better than the first
8-
Saving Mr Banks
-- Well-done behind-the-scenes peek at the irascible PL Travers, and the unstoppable Walt Disney
9-
Philomena
-- A simply beautiful and magical film, Judi Dench at her best
10-
World War Z
-- Is this the best zombie film ever? Yes!
11-
Man of Steel
-- Wonderful reworking of the Superman origins story
12-
Thor: The Dark World
-- A good super-hero story, but we're missing director Kenneth Branagh & Patrick Doyle's wonderful score from the first Thor
13-
Elysium
-- A ripping good dystopian future adventure
14-
Capt Philips
-- Tense & gripping, Tom Hanks at the top of his game
15-
Her
-- Ain't nothing like it!
16-
World's End
-- Conclusion of the "Cornetto Triology", great fun
17-
Pacific Rim
-- What the Transformer films try to be, and fail at miserably
18-
Oz, the Great & Powerful
-- A terrific fantasy film--the best work out of Franco in ages
19-
Monsters University
-- Hugely entertaining prequel to Monsters Inc
20-
Quartet
-- Not released here until 2013; wonderfully touching & musically stirring
21-
The Wolf of Wall Street
-- I loved this when I was sure I would hate it
22-
Star Trek: Into Darkness
-- Two words: Kahn & Cumberbatch
23-
The Great Gatsby
-- A stylish & sometimes affecting presentation of "the great American novel" ... and yet I still don't give a hoot what happens to Daisy, which lessens the story immeasurably
24-
The Butler
-- Well done and wonderfully-cast
25-
Despicable Me
-- In many ways better than the original
You can view my list on IMDB and click on links & stuff!
http://www.imdb.com/list/ls073303340/
Yeah, yeah, I know ... better late than dead ... or is that the same thing? Here, at long last, my 2013 top films. (I'm still working on 2014, but that's because so many of the best came out at the end of the year, I've had to resort to--shudder--video to see the ones I missed in the theatres.) Without further ado, my top 20+ (that's 25, dear) films of 2013--
#1 (tie) Argo
#1 (tie) Silver Linings Playbook
#2 The Hunger Games
#3 Zero Dark Thirty
#4 Prometheus
#5 Brave
#6 The Dark Knight Rises
#7 Skyfall
#8 Lincoln
#9 The Hobbit: An Unexpected Journey
#10 Looper
#11 Cloud Atlas
#12 Wreck-It Ralph
#13 Anna Karenina
#14 The Avengers
#15 The Amazing Spider-Man
#16 Life of Pi
#17 The Best Exotic Marigold Hotel
#18 Frankenweenie
#19 Moonrise Kingdom
#20 Snow White and the Huntsman
You can see my list and comments on IMDB
http://www.imdb.com/list/AARHd1loZOU/?start=1&view=detail&sort=listorian:asc&defaults=1&lists=AARHd1loZOU
Last year was an amazing year as far as quality filmmaking is concerned. I easily came up with 21 (there is a tie for #1) of the best of the best--and could have added a few more! Ahem--here are Haggy's Top 20 Films of 2012 ...


"Although the Potter films have differed somewhat from their source material--it has always been in a thoughtful and engaging manner to translate the awesome writing of JKR Rowling into a satisfying and magical movie experience. The final film of the series, HARRY POTTER & THE DEATHLY HALLOWS part 2 follows in this same vein--and yet, manages to best all previous cinematic efforts!
Many HP books fans who had quibbles with the final book, nevertheless agree with me that this is surely the best film of the series. Tying up loose ends that they complained non-book readers would never understand (I know since I saw the film with many of these people) DH2 is the perfect ending to a magical movie journey that has taken nearly 10 years. See it as many times as you can--the experience intensifies, and the love is over-flowing.
In one word: AWE-INSPIRING!"
Posted this to Movie Tickets.com. Stay tuned for my list of the amazing movie tidbits for this most wonderful of all the Potter films ...
Harry Potter and the Deathly Hallows, part 1
was absolutely amazing and is bumping up next to my fave HP movie (GoF) trying to take over the top spot.
Everyone was SPOT ON! If
Emma Watson
doesn't get a supporting actress nom, there is no justice in the world. That little catch in her voice when she calls down to her folks before she obliviates them tears me up. And did y'all catch her folks talking about Australia, yo? From the book, you Kloves nay-sayers!
The changes they made were both expeditious (surely did not need more ruddy CAMPING) and touching (Harry tries to cheer Hermione with a friendly little turn around the tent; Ron's lovely "like a whisper" return speech.) I LOVED that poor Hedwig got it trying to protect Harry--and that solved the Stan Shunpike omission handily! And all I can say is Dobby--the hero of DH1--is a free elf.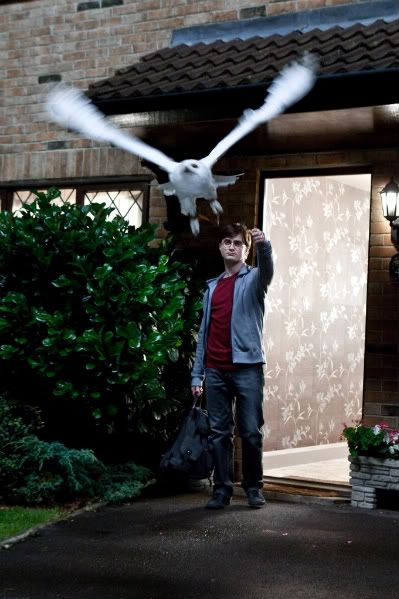 Frankly, anyone who doesn't like this film can keep their opinions to themselves--it was as perfect as it could be, and I cannot WAIT for part 2 in July ... of course then, it will all be over ... *sob*
Ok, I need to post more in-depth, but let me just get this out there:
Dan Radcliffe
is turning into a fine young actor, and this image captures that, and that hysterical scene from
Deathly Hallows
. . . which
JK Rowling
brilliantly crafted as the calm before the Deatheater storm!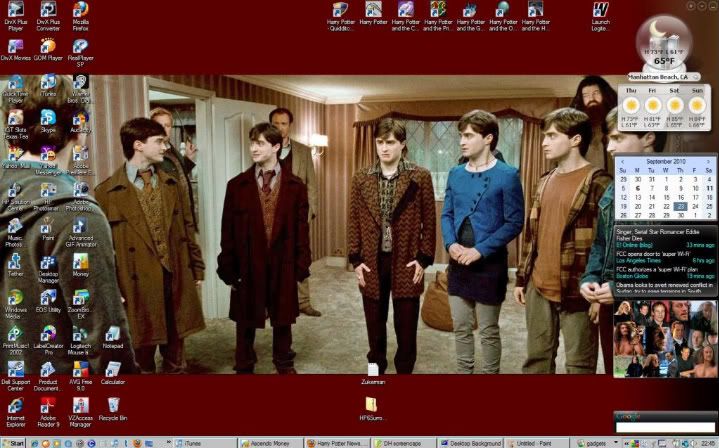 I can perfectly tell which Harry is which--can you?

I'll save my comments on the incredible theatrical trailer for DH part one for my next post, but in the meantime, it's time for a new computer wallpaper from DH!




I sobbed here and there--and the darn thing is only 2-1/2 minutes long! Imagine the Kleenex concession for the actual films. Wowsa!
If there was any doubt that the final two-part chapter in this epic saga would be a total mind-blower, this should dispel such a foolish notion!


I will be heading to Phoenix for wake and family affairs ... I was already going for the weekend ... I feel very small and lonely even though my family was never very close, emotionally.

Bye, Mom & Dad--I never said it enough, but I know you knew how much I loved you, and I always will.
My dad passed in his sleep last night--I guess I am now officially an orphan. Mom was gone the end of November, and they say that long-time couples usually pass within 6 months of one another. Mom was sudden and unexpected, but Dad had health problems for several years now.
Current Location:

Heading to bed

Current Mood:

sad

Current Music:

Mozart's Requiem




Ben Kingsley as the evil Vizier and Jake Gyllenhall (!) as the Prince--whoa!
This is one of my fave videogames--and looks to be a spectacular bit of fun come May ...
Current Location:

Heading to bed

Current Mood:

dorky

Current Music:

HBP soundtrack
twirlynoodle
you MUST read
this
from
http://iamhilarious.com/
That pretty much sums up my AVATAR film experience. It was good--but certainly not the "manna from Hollywood" so many folks have appointed it. And, just like
twirlynoodle
said, 2 thoughts kept recurring to me as I sat through it:
1) This is 3D? REALLY??!!! Didn't notice except for the funky glasses (glad I brought my own pair nicked from a viewing of Harry Potter and the Half-Blood Prince!)

2) Is it over yet? I want Pho!
With many thanks to the incomparable
Current Location:

Heading to bed

Current Mood:

awake

Current Music:

DA VINCI CODE soundtrack (go Hans!)
As I sit outside waiting to see
Harry Potter and the Half-Blood Prince
for perhaps the 10th time, although the first in IMAX 3-D, I wonder about a pervasive feeling amongst the fandom, and casual film-goers alike, that this film is somehow anti-climactic. One film critic even likened it to
STAR WARS
episode 5 (The Empire Strikes Back), and in some ways I can see the parallel. They both ended leaving us on the threshold of the final adventure. Both had a "down" sort of ending—but the difference here, for book fans anyway, is that we KNOW the final outcome … and that perhaps is the source of the malaise. When it's over, it's over and we sit in the darkened theatre watching the credits, listening to Nicholas Hooper's score for
HBP
, dreading what we know will be the final chapter (even split into two parts) of this amazing story. The story we never wanted to end.
That is, I think, the main reason, although few will admit to it, that
Harry Potter and the Deathly Hallows
was so reviled by long-time book fans. Jo Rowling ended the story—and ended it HER way. So, we are experiencing a profound sense of déjà vu—and this time, we know not only that we have been here before, but that we are going someplace else, and we've been there before too. Sad really.
I thought the film adaptation of
HBP
was absolutely brilliant. As true to the source material as it could get without being bogged down in countless explanations that only the book-readers would enjoy, it is a fine piece of story-telling, beautifully photographed, and amazingly well-acted. I laughed and cried my way through the film and the final horrific scenes, just as I did with the book. And I SAW the "last sun-filled day" with the trio—it was not a let down, but a logical place to stand and look toward the twisted road leading us (and them) to the final showdown with Voldemort.
I too, dread the finality of the last 2 films, as I dreaded the arrival of the book of
Deathly Hallows
. Not because I am afraid of what the filmmakers will do to "my Harry"—after six fabulous films I feel the story is in good and practiced hands. No, I fear it because it truly IS the end . . . At least with the last book I knew I had 2 (now 3) films left to anticipate.
It is that same fear of THE END, I think, that has gripped the fans, and even the casual film-goers who will no longer have Harry around. What ever will we do without him?